SUBMICRON SIDE STREAM FILTRATION FOR COMMERCIAL COOLING LOOPS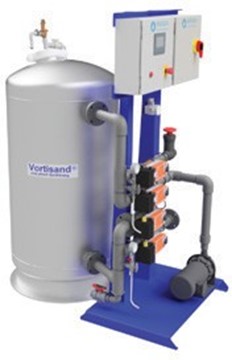 REMOVING THE SOURCES OF FOULING TO MAXIMIZE THE EFFICIENCY OF COOLING ASSETS
WHY FILTER YOUR COOLING WATER?
The advantages of side stream filtration include: 
Reduced energy consumption by reducing fouling on heat transfer surfaces
Improved effectiveness of anti-corrosion and biocide treatment
Decreased nutrient sources and habitat for potential Legionella growth
Minimized maintenance and downtime
CHOOSING THE RIGHT FILTER FOR YOUR COOLING APPLICATION
Although many technologies have been used for side stream filtration, for over thirty years Vortisand submicron filters have been recognized as the pinnacle in performance and continued innovation in the industry.
The new C-Series builds on years of experience and customer feedback to provide a range of filters ideal for commercial cooling applications such as HVAC, data centers, central utility plants, hospitals, district energy facilities and many more. Some of the enhancements include:
FEATURES/BENEFITS
Optimized Layout
15% smaller footprint
Simple, intuitive controls for easier operation and troubleshooting
Piping layout designed for ease of installation and service
Split skid design for maneuverability in tight spaces such as mechanical utility rooms
Dependable Safety and Reliability
Dedicated enclosures for high and low voltage electronics to improve safety during operations
Fail-closed valves to enhance safety and operational integrity
Pressure vessels built to ASME code for added reliability and longevity
SIZING YOUR SIDE STREAM FILTER FOR OPEN LOOPS
While there are several possible configurations for installing a side stream filter on an open loop. Evoqua recommends the Vortisand filter draw a side stream from the pressurized section of the loop downstream of the main recirculation pumps. This ensures adequate suction pressure to the Vortisand feed pump.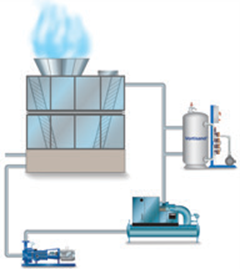 How it Works
FILTRATION MODE:
Vortisand® filtration systems use exclusive VortiJet™ diffusers to generate a cross- flow pattern that flows parallel to the surface of the media. Combining this cross-flow pattern with fine 0.15 mm microsand media allows the filter to remove contaminants in two ways: (1) large contaminants are blocked by the microsand while the cross-flow patterns holds them in suspension and prevents them from blocking the surface, (2) finer contaminants that enter the microsand layer are trapped within its fine pores.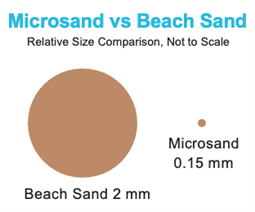 CROSS-FLOW: VortiJet injector induces a cross-flow pattern across surface of media. Large particles are kept in suspension which prevent media surface blinding.1. CROSS-FLOW: VortiJet injector induces a cross-flow pattern across surface of media. Large particles are kept in suspension which prevent media surface blinding.
MICROSAND: Small particles penetrate the fine microsand media bed where 
SUPPORT STRUCTURE: Larger media is used to act as a support structure for the microsand. These layers do not perform filtration they are trapped within small pores
UNDERDRAIN: Filtered water flows through the support layers and out through the wedge wire underdrain.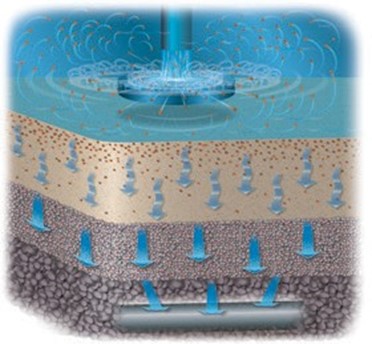 TECHNOLOGY BENEFITS FOR COOLING LOOPSTECHNOLOGY BENEFITS FOR COOLING LOOPS
Submicron filtration – Removing the fine particles responsible for fouling cooling systems helps to keep cooling equipment operating at peak efficiency.
Smaller footprint – High filtration rates mean Vortisand filters have the smallest footprint of any media filter.
Automated operation/minimal maintenance – Vortisand filters are fully automated, require minimal maintenance and have a user-friendly interface complete with maintenance reminders.
Lower cost of operation – Since the microsand media backwashes easily, Vortisand filters use up to 50% less water for backwashing than conventional media filters.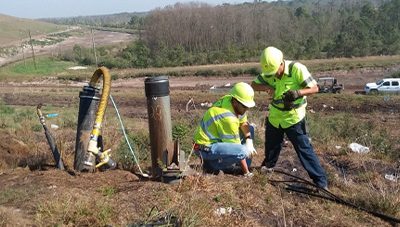 Landfill Leachate Collection Systems (LCS) can often suffer from excessive scaling and clogging of piping systems, pumps, etc. Conventional remediation methods include expensive hydro-blasting and/or acid cleaning but the problem quickly returns. Problems with scale...
read more