Hospital Acquired Infection Prevention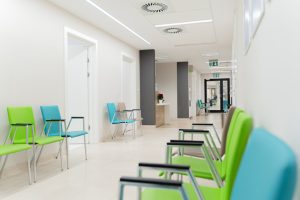 According to the Centers for Disease Control (CDC), Hospital Acquired Infections (HAI) account for almost 2 million infections and 99,000 associated deaths annually in the United States. HAIs can be caused by fungi, bacteria, and viruses that can be carried into and through a healthcare facility on, or in patients, visitors, and healthcare workers, as well as through contaminated hospital equipment such as HVAC systems. At Conservation Solutions Corporation, located in Carlisle MA, we specialize in identifying, analyzing, and mitigating air quality issues and providing effective solutions for Hospital Acquired Infection prevention.
Independently Verified Performance
At Conservation Solutions, we aid Hospital Acquired Infection prevention in Healthcare facilities by designing and installing Steril-Aire ultraviolet germicidal irradiation (UVGI) systems backed by a 2 1/2 year ASHRAE study of 6 Northeast Hospitals. The UVGI energy intensity of the Steril-Aire UVGI Systems was also independently verified by U. S. Homeland Security and found to be on average 6x more energy intensive than other UVC systems on the market. Based on independently verified performance data, UVC systems are excellent for decontamination in hospitals, urgent care facilities, medical office buildings, dentist offices, nursing homes, rehabilitation centers and food preparation areas.
Benefits to healthcare facilities of Hospital Acquired Infection Prevention include:
Kill 99.99% of HAI-causing pathogens recirculating in HVAC coils and ducts
Kill 99.99% of pathogens associated with Ventilator associated Pneumonia (VAPs)
Improve HVAC system performance
Reduce energy & maintenance costs
The hospital HVAC systems can be a reservoir, amplifier, and disseminator of pathogens commonly attributed to HAIs. These microorganisms contribute to the growth of a complex microbiological material called "biofilm" that adheres to HVAC coils and drain pans. Air quality studies show that these problematic pathogens are re-circulated and are present in the air inhaled by patients, increasing HAI risk. Air filtration and regular cleaning alone are insufficient to achieve Hospital Acquired Infection prevention. The solution is to address the underlying cause of contamination at the source.
In addition to taking on HAIs, Conservation Solutions UVGI systems address Indoor Air Quality (IAQ). Healthcare workers represent a significant % of operating costs. Providing the best IAQ is not an option – it's essential. Here is how healthcare workers can be affected by poor IAQ:
Crisis Response Improved 97%-131% with better IAQ
Strategic Thinking Improved 183%-288%
Information Usage Improved 172%-299%
Source: Harvard TH Chan School of Public Health
Studies have shown that Steril-Aire UVGI technology can reduce up to 99.99% of the airborne microorganisms and inhibit the growth of biofilm in HVAC systems improving operational efficiency while reducing the risk and liability associated with HAI. If you'd like to learn more about Hospital Acquired Infection prevention and how a Steril-Aire UVGI system can help protect your facility, contact the HAI experts here at Conservation Solutions.