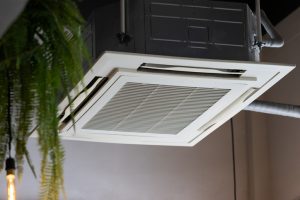 Good
Indoor Air Quality
(IAQ) contributes to the health, comfort, and productivity of the people living and working within a building.
Building owners and managers are recognizing that building occupants represent 90% of operating costs and are better understanding how they can be affected by poor IAQ:
Crisis Response: Improved 97%-131% with better IAQ
Strategic Thinking: Improved 183%-288%
Information Usage: Improved 172%-299%
Source: Harvard TH Chan School of Public Health
Healthy Indoor Air Quality ensures that the air inside a building is free from significant levels of pathogens such as bacteria, mold, and viruses. These pathogens can grow as biofilm on HVAC coils and re-circulate through the buildings and HVAC systems. As building owners and managers better understand the importance of Air quality in their building(s), many of them in New England turn to Conservation Solutions, located in Carlisle, MA.
At Conservation Solutions we can help you:
Eliminate 99.99% HVAC system mold, bacteria, and viruses
Substantially reduce IAQ issues
Increase productivity
Reduce absenteeism
Better manage IAQ liability risk
Reduce tenant dissatisfaction (sick building syndrome, odors, etc.)
Save energy
Indoor Air Quality in a large building is the product of multiple influences and internal attempts to bring problems under control do not always produce the expected results. One of the most effective technologies for combating pathogens such as bacteria, mold, and viruses is Ultraviolet-C (UVC) systems. At Conservation Solutions, our air quality experts can help determine the best UVC system for your building and identify potential health issues associated with HVAC cooling coils by analyzing mold and bacteria levels in the biofilm accumulating in the coil(s). They can also determine potential energy losses from the accumulation of biofilm in the coil that reduces heat transfer efficiency and restricts air flow.
As the COVID-19 pandemic raises awareness of the pervasiveness and potency of airborne pathogens and contaminants and the significant negative effect they can have on the economy and society, public and private organizations are realizing the critical importance of Indoor Air Quality. To learn more about managing IAQ in your facility, contact the  Indoor Air Quality specialists here at Conservation Solutions.