FlowMark Disinfection System Treatment
The objective in water treatment for cooling towers, chillers, heat exchangers and evaporative condensers is to protect the equipment from corrosion, control bacteria growth, eliminate scale on heat transfer surfaces and piping, prevent biofilm, control algae growth and control the accumulation of dirt and debris in the system.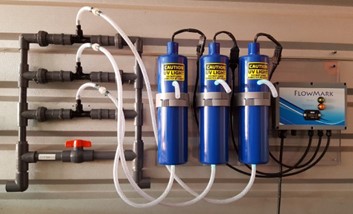 Over the years, almost every component of these systems have evolved – cooling towers, chillers, heat exchangers, evaporative condensers, pumps, drives – all have become more energy and water efficient. And yet in the face of such technological advances, the single most important process associated with the longevity and efficient operation of water-cooled systems – water treatment – has remained mired in the hazardous chemicals of the past — until now.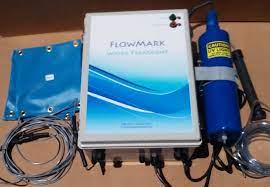 The FlowMark Disinfection Systems Water Treatment System
The FlowMark System works by generating a powerful disinfecting gas and introducing it into the  cooling tower water through submerged diffusers installed in the cooling tower basin. The process is recognized by the EPA as "Advanced Oxidation Process". The FlowMark Water Systems technology:
Produces Highly Reactive Hydroxyl Radicals
Low ozone (O3) production (<0.5 PPM)
Creates Measureable Hydrogen Peroxide
Controls Bacteria
Installs in conductivity control loop
No air pump required
No diffusers required
Water Treatment Solutions
Cooling Towers, Chillers, Heat Exchangers & Evaporative Condensers
Conservation Solutions' Water Treatment Division operates with the slogan "Expect Superior Water Treatment", and that phrase represents our sole objective in serving our customers. With the FlowMark Disinfection Systems Technology as the centerpiece of our water treatment products and services, we are literally changing the way that facilities view water treatment. In some cases we team with our partners to address specific water conditions with non-hazardous chemicals to ensure protection of the cooling system equipment. In most cases, the FlowMark Water Systems technology handles all the water treatment requirements without chemicals.
Hard Water? – Reduced Water Flow & Lost Energy
Applications:
Chillers
Cooling Towers, Evaporative Condenser
Domestic Hot Water Heaters
Heat Exchangers
Process Applications
Eliminate or Reduce the On-Going Cost of Water Softeners
The FlowMark Water Treatment Disinfection System is classified as an Advanced Oxidation Process. Oxygen is split into singlet oxygen atoms as it passes through a lamp chamber containing a specific wavelength UV lamp. The oxidizing gas is introduced to the cooling tower water via Venturi injection into the conductivity control loop. The singlet oxygen atoms interact with water molecules forming hydroxyl and oxygen radicals which trigger various chemical reactions, oxidizing contaminants including minerals and bacteria. In addition, some oxygen radicals join with water molecules (H2O) to form a measureable residual of Hydrogen Peroxide (H2O2), a trusted long lasting, nontoxic biocide.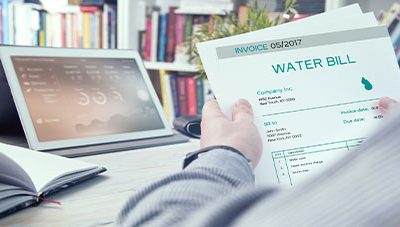 Conservation Solutions is highly effective in designing water efficiency programs tailored to meet your budget. We take a comprehensive look at opportunities to reduce water use by increasing efficiency. We work closely with customers to dramatically reduce water use in buildings by identifying and installing state of the art technologies that best meet the unique needs of your building or facility.
read more