Air quality in the HVAC systems is an often overlooked problem although it has become more important with concerns about Covid-19 and issues with liability. Biofilm grows in the moist environment of building air conditioning coils. Bacteria, Molds and Viruses can amplify in this environment resulting in pathogens recirculating in the building causing health issues.
Problems:
COVID-19
IAQ
HAIs
Spread of Infections
Reduced Professional Staff Performance
Liability
Absenteeism
Energy Losses
Biofilm in Coils Causing Heat Transfer Loss
Shorter Produce Shelf Life
Biofilm in Coils Causing Fan Motor Resistance
Odors
Powdery Mildew in Grow Operations
Ventilator Associated Pneumonia (VAP)
Contaminated Surfaces, Equipment and Walls
Conservation Solutions represents Steril-Aire UVC Systems. The most stringent independent sources confirm that Steril-Aire provides the most effective and efficient UVC protection available. Contrary to what many in the HVAC industry think, all UVC lamps are not alike in output or delivered dose. The dose output can affect the time and power curve related to inactivation effectiveness.
This is critical when engineering firms are specifying 99.99% effective rate of inactivation of fly-by bacteria and viruses. The UVC vehicle that provides the higher dose allows you to use less lamps. Fewer emitters (lamps) lamps to provide the solution means less overall cost to reach acceptable performance in a system and less restriction of critical air flow.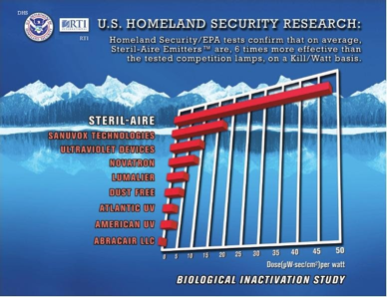 Contact Conservation Solutions on how you can:
Effectively control COVID-19 in HVAC Systems
Saving Energy
Eliminate 99.99% of molds, bacteria & Viruses in your HVAC System
Reduce Hospital Acquired Infections (HAIs) & associated liability
Reduce Indoor Air Quality (IAQ) issues and associated allergies, asthma, headaches and absenteeism
Increase productivity and performance of staff, students, teachers and employees
Eliminate Odors
Increase shelf life of produce
Reduce Bacteria on Food and associated liability & poor publicity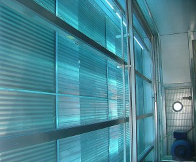 Installation Applications:
(Office Buildings, Universities & Colleges, Schools, Healthcare Facilities, Multifamily Buildings, Municipalities, Research Labe and Industrial Buildings)

Air Handlers
Ducted coils
Fan Coils
Heat Pumps
P-Tac Units
In-room
Hand-held Units
Rooftop Units
Protect Food
DX Units
Prolong Shelf Life of Food